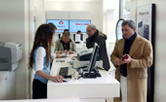 Since CK Hutchison's entry into the mobile telecommunications market in 1983, our businesses have grown to serve over 126 million active customers across the world. Many of our telecommunications businesses have claimed leading positions in their respective markets.
In Hong Kong, CK Hutchison holds a majority interest in Hutchison Telecommunications Hong Kong Holdings Limited (HTHKH). A listed company and an established integrated telecommunications operator, HTHKH provides leading-edge mobile services in Hong Kong and Macau under the 3 brand and advanced fixed-line services for local and international customers under the Hutchison Global Communications (HGC) brand.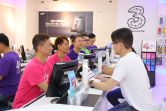 In global markets, Hutchison Asia Telecommunications (HAT) holds CK Hutchison's interest in mobile operations in Indonesia, Vietnam and Sri Lanka, while 3 Group Europe operates businesses in Italy, the UK, Sweden, Denmark, Austria and Ireland.
CK Hutchison's success is founded on a commitment to innovation and leading edge mobile technology. We were among the world's first mobile broadband operators. Our operations now comprise a range of mobile and mobile broadband, fixed-line, Internet, Wi-Fi, broadband and international connectivity services, each providing customers with access to the latest technological advancements.