6.7. Waste Management and Circular Economy
6.7.1. Commitment
ASW is committed to minimising the amount of waste going into landfills by adopting a circular economy model, where possible, and abide strictly to local requirements in terms of waste collection and disposal. The company makes every effort to ensure no hazardous waste is sent to landfills and to minimise the amount of non-hazardous waste sent to landfills. Additionally, ASW has signed up to the "New Plastic Economy" Global commitment for their OB products, working to eliminate plastic items that are not needed, innovate such that all plastics are designed to be safely reused, recycled or composted, and circulate everything to keep in the economy and out of the environment.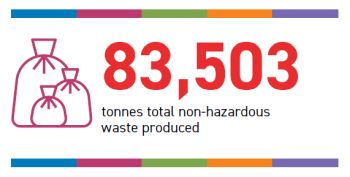 6.7.2. The Challenges
Waste management in the retail industry has been a prominent topic as the industry has traditionally involved in creating a significant volume of waste through items such as food, single-use plastics and packaging. In recent years, the ASW Group has been actively exploring opportunities to reduce the waste generated across the value chain.

6.7.3. Initiatives
6.7.3.1. Improving Store Carrier Bags
Across the Retail operations, various types of store carrier bags are offered for the convenience of ustomers. ASW aims to reduce the provision of single-use carrier bags and use alternatives such as reusable bags, paper bags or bags made partially with recycled plastic content.

Currently, business units in Europe provide carrier bags which includes a minimum of 25% recycled plastic content. In Asia, this figure is 5-10%. ASW strives to increase the use of recycled plastic content to 25% in Asia to align with Europe.

Paper bags are also offered in multiple locations and customers are encouraged to switch to reusable bags. In Hong Kong, programmes such as "Share Your Bag and Bring Your Own Boxes" are implemented at designed stores.

6.7.3.2. Reducing Packaging
There is a significant growth in online business across the world, which has led to an additional use of packaging materials required for product shipment. In the supermarket division, customers' feedback on the extensive use of plastic packaging for raw and fresh products are received.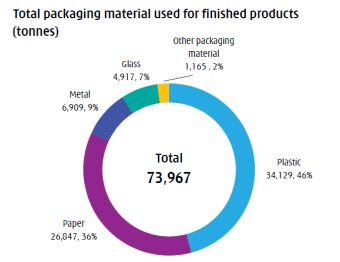 To reduce packaging, business units have been reinventing and redesigning product packaging to keep them safe in transportation with minimal use of materials. In 2018, the regional eCommerce team released guidelines on packaging and dispatch notes not only to standardise the look and feel but also to optimise the amount of material used.

In the guidelines, key strategies and directions, such as introducing product refill options and phasing out the use of PVC in packaging, were introduced for business units to act on.

6.7.3.3. Collection of Empty Containers in Stores
ASW partnered with recyclers to collect empty glass and plastic containers from customers and to process them back into raw materials for further re-use in support of circular economy.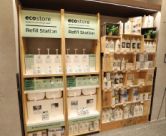 Up to 2019, four business units across four operating markets are collecting empty containers for personal care/cosmetics products from customers. In Hong Kong, empty glass containers and water bottles are being collected and reverse vending machines are added to collect empty plastic water bottles. In 2020, it aims to expand the empty containers recycling programme to two new markets.

6.7.3.4. Testing In-store Refill
Customer refill may be a potential business model to substantially cut back on plastic waste, and ASW has worked with strategic suppliers to review the opportunity of introducing this initiative.

In Hong Kong, a personal care refill station for a New Zealand brand "ecostore" was launched in PARKnSHOP. Customers can now bring in their container to purchase refills. In 2019, the lines of refill stations have expanded to include olive oil, vinegar and whiskey refill by Vom Fass and nuts corner by Hart.

6.7.3.5. Non-hazardous Waste Recycling in Warehouses
The Retail division strives to reduce and recycle warehouse wastes. In daily operation, non-hazardous wastes are handled in compliance with local legislations. Non-hazardous waste is either managed through shopping malls' own waste management systems or brought back to the warehouses to be delivered to local recyclers. This waste usually comes from secondary and tertiary packaging.

6.7.3.6. Banning the Use of Microplastics
The use of microplastics has been a topic of concern in the retail and cosmetics industry in the past couple of years. The Retail division has been taking steps to fully ban the use of microplastics in the development of OB rinse-off cosmetics/personal care scrub products since 2014.

To further fulfil the Retail division's commitment to the environment, ASW has stopped selling all rinse-off cosmetics products/personal care products containing microplastics at its stores since January 2020. With the changes on the definition of microplastics in Europe and potential extended restrictions, ASW is actively working with suppliers to fulfil any additional requirements.

6.7.3.7. Mitigating the Impact of Plastics
With retail and beverage manufacturing being key parts of ASW's business, the company is committed to contribute to the global effort of combating
plastic waste.

Four key focus areas in achieving such goal are identified, including:
Reduce unnecessary and problematic plastic.
Make packaging more recyclable.
Explore reusable packaging models.
Use recycled plastic content.
At Watsons Water, a goal to have all plastic bottles made from 100% recyclable PET materials by 2020 was set.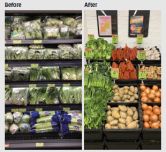 ASW is also currently reviewing its portfolio of single-use OB plastic products to determine whether they can be re-designed to be recycled, reused or made with better alternative materials. However, this can only be done in markets where regulations allow.

PARKnSHOP was the first supermarket in Hong Kong to launch a trial of non-package fruits and vegetables at three of its university stores. The trial has enabled PARKnSHOP to identify the direct impact of shelf life of certain fruits and vegetables along with the demand for sustainable packaging solution.

6.7.3.8. Making OB Products More Sustainable


The Retail division is committed to having 100% of the dry paper products (toilet tissue, facial tissue and related items) made of PEFC or traceable recycled paper by 2025.

By 2018, dry paper products had already a transitioned to sustainable paper sources such as PEFC.

6.7.4. Looking Forward
Immediate next steps are identified to help ASW become more environmentally-friendly, with the upcoming initiatives:
Installing 400 reverse vending machines in Hong Kong by 2025, with a target to collect 50% equivalent Watsons Water bottles by 2025 and 100% equivalent by 2030.
Installing 100 water refill stations by 2025.
In Q1 2020, ASW also launched the 2030 Sustainable Packaging Strategy, covering OB products packaging, carrier bags and eCommerce parcels. And in Q2, ASW officially signed up to the "New Plastic Economy" Global commitment.

Below are a few key goals and objectives identified in ASW OB Sustainable Packaging strategy:
Eliminating unnecessary and problematic packaging. For example through avoiding over-packaging and phasing out PVC by 2030.
Promoting packaging that is more recyclable or reusable.
Targeting to use a minimum of 20% recycled plastic content in plastic packaging by 2025 (ASW average), if supply allows.