6.2. Product Quality and Safety
6.2.1. Commitment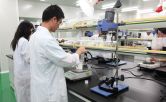 At the Retail division, product quality and safety along with manufacturing sustainable products for customers is a key priority across all business units. ASW takes the interests of its customers to heart and has been working with leading experts and researchers globally to deliver excellent quality and value through a wide range of OB products.

6.2.2. The Challenges
The Retail division has seen how customer behaviour changing considerably over the past decade. More customers are becoming interested to the details of the product they are purchasing and want to obtain a thorough understanding of an array of information such as product origin, product materials, nutritional value and others.

To maintain ASW's leading position in the industry, it is important to continuously enhance the safety and quality of OB products, which in turn helps to create financial value, generate social value and protect the environment.

6.2.3. Initiatives
6.2.3.1. Ensuring the Safety and Quality of OB Products
Aiming to develop a well-established mechanism on the production-to-shelf process to deliver excellent quality and valued OB products, ASW established four major measures for the production-to-shelf process to achieve such a goal. In the supplier selection process, manufacturers who have a strong track record in social and environmental aspects along with a good manufacturing practice are selected. Each potential supplier is assessed by an external auditing agency or ASW's own quality assurance team.

When developing a new product, there is a rigorous and intensive internal testing process and external assessment. All items, from raw materials to the final product, are assessed by a European toxicologist to ensure it complies with regulatory requirements in each market. Throughout the manufacturing process, additional tests are performed to ensure the safety and quality of the products.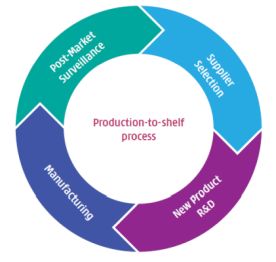 Upon a product's introduction in the retail shops, post-market surveillance programmes are conducted to constantly monitor customers' feedback. ASW conducts regular assessments of OB products led by external independent laboratories and internal ISO17025 accredited laboratories (food and non-food) to ensure the products sold to customers are up to standard.