6.4. Labour Management
6.4.1. Commitment
The Retail division's team of talents is crucial for the company to deliver excellent service and great products to customers. Therefore, ASW is committed to:
Creating a safe, healthy, supportive and discrimination-free working environment.
Providing ample opportunities to enhance one's skill, through on-the-job training and clearly defined progression pathways.
Ensuring equal opportunities and competitiveness in staff remuneration and recognition.
6.4.2. The Challenges
As a global retailer with a workforce of more than 136,000 (including full-time and part-time), ASW believes that its size and scale can create a significant impact on the people working for the company and the community across its value chain. By taking a proactive and holistic approach in protecting human rights, ASW can play a part to foster human and societal development.

6.4.3. Initiatives
6.4.3.1. Employee Wellbeing
The Retail division embeds wellbeing in its culture to allow teams to do their best work through engagement and awareness programmes.

ASW launched its first global wellbeing programme in 2018 to help employees flourish and achieve their full potential. Regional business units got creative and embraced the opportunity to cover a broad range of wellbeing subjects including physical health, fitness and sport, healthy eating, mental health, financial wellbeing, work-life balance and effective sleeping.

6.4.3.2. Continuous Professional Development and Education
The Retail division provides up-to-date, customer-focused training to assist staff in acquiring technical and soft skills and occupational competencies, thereby meeting the ever-changing needs of customers.

To remain at the forefront of retail excellence, ASW launched the first ever Retail Academy in Hong Kong in 2018 to manage all talent development programmes for staff in-house.

In 2019, over 440 store specialists and management staff were put forward for the Recognition of Prior Learning under Hong Kong's Qualification Framework (QF), a government initiative set up to encourage and facilitate lifelong learning to enhance the capability and competitiveness of the local workforce. It aims to enable them to obtain recognised qualifications based on their work experience and facilitate their ongoing professional development.

There were also about 3,500 professional and comprehensive courses recognised by QF offered to staff across PARKnSHOP, Watsons, Fortress and Watson's Wine. The courses are designed with the aim to well prepare staff to meet the ever-changing customer expectations.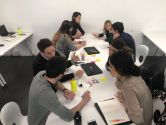 ASW organised a set of face-to-face interactive sessions with Snackables in the UK and Milan, providing employees the opportunity to take short training courses organised by Learning and Development, as well as other teams such as eLab, and Data Lab. The programmes and schedules can be accessed and booked by anyone via an online calendar.

6.4.3.3. Gender Equality
The Retail division offers fair and supportive workplace for people of all genders and give female employees as many career and progression opportunities as male employees.

At The Perfume Shop which employs around 2,200 employees, the median gender pay gap this year improved significantly against 2018 from 7.3% to 2.2%. This pay gap is 6.7 % smaller than that of the full-time employees in the UK, demonstrating ASW's commitment to gender pay at all levels in the business, as well as its dedication to equality in recruitment, development and promotions.

At Superdrug and Savers, there was 480,000 hours in training in 2019, where 82% of which were invested in women. Also, among 1,900 internal promotions this year, 79% of which were female.