5.5. GHG Emissions and Energy Efficiency
5.5.1. Commitment
As one of the leading port networks in the world, Hutchison Ports is committed to doing its part to make the global logistics chain more environmentally-friendly.

5.5.2. The Challenges
The ports industry is seeing more stringent port environmental requirements being implemented in different countries. For example, International Maritime Organization (IMO) 2020 requirements call for marine vessels to burn low sulphur fuel or to install scrubbers. Some terminal operators responded by installing onshore electric power systems. This requires changes to existing port equipment or additional facilities, resulting in major capital investment.

With the advancement of technology, there are also more green options for ports to improve energy efficiency and reduce GHG emissions. While this provides ports with more alternatives to lower their environmental impact, careful considerations on the applicability and flexibility of new technologies are required.

5.5.3. Initiatives
5.5.3.1. Environmental Management System
A three-tier Environmental Management Hierarchy Model has been established to put business units into three categories – namely compliers, initiators, and innovators – based on the maturity of their environmental awareness, environmental management practice, and environmental performance in terms of the major key performance indicators ("KPI"). Such classification helps the business units to focus on improving the environmental management practices in the lower tiers.

In terms of the environmental management processes, a number of business units such as Hutchison Ports UK, Hutchison Ports BACTSSA in Argentina and Hutchison Ports BEST in Spain have already adopted internationally recognised management systems such as ISO 14001 Environmental Management System, a solid framework for managing environmental performance.

Global environmental workshops are planned to further enhance and align practices across the business units going forward.

5.5.3.2. Mobile Shore Power Units
With the enactment of IMO 2020 requirements in 2020, more vessels may switch to use shore electric power while at berth. The shore power units save fuel consumption that would otherwise be used to power vessels while at berth in the port, which in turn, reduces air pollution and GHG emissions. For example, Hutchison Ports Yantian has six mobile shore power units already installed that covers the port's 16 berths. With such outstanding environmental performance, Hutchison Ports Yantian was honoured the Best Green Container Terminal at the 2019 Asian Freight, Logistics and Supply Chain Awards.

5.5.3.3. Expansion of Electric or Hybrid Equipment Fleet
A long-term equipment plan, which started in 2007,was established to gradually replace existing old diesel-powered RTGCs with full electric or hybrid RTGCs in the coming future.

Up till now, Hutchison Ports operates globally 653 electric and 319 hybrid RTGCs, out of a total fleet size of 1,506. For example, in Hutchison Ports Thailand's Terminal D, all the RTGC are powered by electricity. This green technology has a lot of advantages over the conventional diesel engines, including zero fuel consumption, low noise pollution and emission-free.

Hutchison Ports is now moving towards the continuous expansion of environmentally-friendly equipment fleet. In 2020, there will be 11 new fully electric RTGCs introduced to Hutchison Ports Pakistan, eight hybrid RTGCs at Hutchison Ports Sohar in Oman and eight fully electric RTGCs at Hutchison Ports UK.

An alternative for electric RTGC is to use hybrid power. There are a total of 319 hybrid RTGCs in Hutchison Ports. Hybrid power typically composes of lithium ion battery bands coupled with a much smaller diesel engine. It significantly reduces the use of diesel fuel and carbon emissions.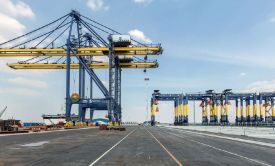 5.5.3.4. Continuous Conversion of Yard Lighting Systems
Energy saving has always been one of the key initiatives at Hutchison Ports. One of the effective methods is the application of Light-Emitting Diode ("LED") lighting.

LED upgrading projects have been implemented by a number of ports in different regions. Hutchison Ports BEST in Spain and Hutchison Ports Alexandria in Egypt have plans to replace the lighting systems of their yard equipment into LED, while Hutchison Ports UK has a plan to replace the existing fluorescent bulbs to LED on their quay-side equipment.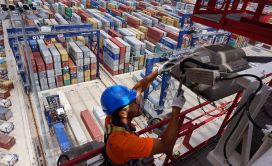 5.5.3.5. Application of Renewable Energy Sources
Hutchison Ports has been continuously seeking application of renewable energy in its ports.

Solar panels are installed for lighting and utility purposes in Hutchison Ports LCT in Mexico, Hutchison Ports BEST in Spain, Hutchison Ports Brisbane in Australia and Hutchison Ports Ajman in UAE.