5.2. Anti-Corruption
5.2.1. Commitment
The board and executive management of the Ports division has zero-tolerance to bribery and corruption. Stringent policies, guidelines and procedures are established to uphold high standards of business ethics and integrity. All employees must adhere to the ethical standards and legal requirements set out in the Anti-Fraud and Anti-Bribery ("AFAB") policy, the Code of Conduct, and other relevant policies and guidelines. In addition, all business partners, suppliers and third party representatives are encouraged to adopt the standards.

5.2.2. The Challenges
With globalisation, there has been substantial growth in global trade. However, this also increases the risks and threats of bribery and corruption. In managing the ports business in 26 countries, employees are often directly exposed to the risk of receiving advantages from importers and exporters of merchandise. Also, shipments often involve multiple jurisdictions and thus increase the risks of illegal activities.

5.2.3. Initiatives
5.2.3.1. Distribution of AFAB Policy and Compliance Monitoring
To further strengthen efforts in tackling bribery and corruption risks, the Ports division is aiming to require all employees to self-declare their compliance with the Code of Conduct and related policies, maintain effective communications and a high level of selfawareness among employees through enhancing their understanding of the internal policies.

The AFAB and other relevant policies are distributed to all ports across the globe while the Code of Conduct and the Staff Handbook are available on the intranet and in hard copies.

Moreover, to enhance communications, some local language versions of the Code of Conduct have been created for front-line employees. Starting in 2019, all employees at Hutchison Ports HIT and Yantian are required to self-declare their compliance. Hutchison Ports Yantian had translated the self-declaration form with a Chinese version to ensure employees are able to declare accurately.

5.2.3.2. Code of Conduct and AFAB Training
Regular training on the topic of bribery and corruption is provided to employees globally to ensure full compliance and understanding of the policies.

All employees are required to go through Code of Conduct and AFAB training, as part of new-joiner orientations, and also on an ongoing basis. To ensure
key personnel are familiar with the relevant laws and regulatory requirements, all managers and supervisors from the Human Resources, Commercial, and Procurement departments, along with other selected individuals, are required to attend classroom training every two years. Ports also provide an e-Learning platform for employees to have better access to the AFAB policy and ensure the policy is wellcommunicated at all levels.

In view of higher bribery risk exposure in some local environments, business units extend the training to suppliers, such as the Mexican ports. In Hutchison Ports Tanzania, a CEO/CFO meeting will be held with major suppliers to communicate AFAB requirements and increase their awareness.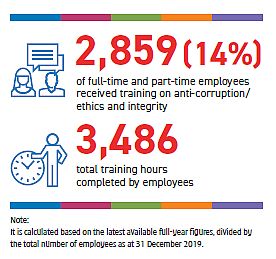 5.2.3.3. Confidential Whistleblowing Mechanism
The Ports division has long-established whistleblowing mechanisms and policy for employees and stakeholders to confidentially and anonymously report any suspected acts of misconduct and malpractice, without fear of retributions.

Whistleblowing policy and related incident reporting procedures are in place to ensure the cases are investigated thoroughly and independently. For instance, in Hutchison Ports UK, a "Speak Up Line" is set up and advertised in "Employee App" to provide channel to employees for reporting any suspected
AFAB incidents confidentially. All incidents are recorded on a register, and the status and statistics are reported to Group management regularly.

Nine cases involving suspected acts of misconduct and malpractice or cases of whistleblower were reported in 2019, such as misappropriation of container goods and suspected scam email. All cases had been reported to the management, which had timely initiated independent or joint investigation with local regulatory parties (such as Customs and police), with proper follow up on the investigation results and remedial actions taken.