7.3. Occupational Health and Safety
7.3.1. Commitment
Employees of the Infrastructure division are exposed to a number of occupational hazards and risks that might adversely affect their health. The division is committed to providing a safe and healthy work environment for its employees with the initiatives listed below.

7.3.2 The Challenges
While occupational health and safety is one of the priorities for most employers, it is even more important for businesses requiring working in hazardous environments, such as Infrastructure. The occurrence of work-related incidents, injuries, diseases and deaths can add to a company's costs, cause damage to corporate reputation or even end businesses if appropriate measures are not in place. Therefore, creating a safe and well-supervised working environment is of utmost importance in the division's day-to-day operations.

7.3.3. Initiatives
7.3.3.1. Creating a Strong Culture of Safety
The Infrastructure division strives to improve safety leadership and strengthen safety culture within the organisation.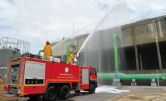 Australian Gas Networks used to track its safety performance using lag indicators, which only worked when something has gone wrong but were unable to stop incidents before they happened. In 2019, the company adopted Leading Indicator Cultural Models which considered a range of key performance indicators related to employees' health, safety and environmental ("HSE") objectives, with scores and weightings aligned to its vision, including:
Effective leadership engagements: face-to-face discussions completed by senior leaders focusing on recognising and reinforcing HSE behaviours.
Meeting actions.
Reporting compliance.
Field audit completion.
Training compliances.
AVR held a Safety Week during which employees assumed the role of safety experts and came up with ideas. The managers went around the sites to talk to employees once a month while the Board did this fortnightly. The discussions covered topics like safe behaviour, employees' working methods, training courses and their awareness of emergency numbers and assembly points.

Northern Gas Networks in the UK obtained the third consecutive gold award from the Royal Society for Prevention of Accidents for demonstrating leading practices in health and safety.

7.3.3.2. Caring for Employees' Mental Health
CKI aids employees affected by mental health issues and open the conversation around mental health in the workplace.

Northern Gas Networks engaged external training providers to deliver a Mental Health Awareness Programme, including training, workshops and events network-wide over the course of 2019 to better inform employees of the importance of mental health.

HK Electric continued to use "Drive your own purpose" as a theme for year 2019, aimed at motivating employees to take ownership of their own physical and emotional wellness. A wide range of initiatives including interest classes, seminars, health talks, training courses and fitness activities ran to help staff maintain work-life balance.