7.6. Environmental Management
7.6.1. Commitment
The Infrastructure division is cognizant of the significance of environmental management. This is why it has invested in a diverse portfolio of investments in energy infrastructure, transportation infrastructure, water infrastructure, waste management, energy-from-waste, household infrastructure and infrastructure related businesses. The division is committed to minimise negative impacts on the environment and optimise the use of resources.

7.6.2. The Challenges
Adverse environmental impacts may occur in the construction and operational stages of infrastructure projects. As rapidly growing populations and urbanization lead to increasing demand of infrastructures, the Infrastructure division is facing challenges of supply, sufficiency and sustainability. The division must move forward responsibly and integrate environmental concerns into its business, including developing innovative ways to minimise negative environmental impacts and protect sensitive habitats from being irrevocably damaged during the design, planning, construction and operation of its projects.

7.6.3. Initiatives
7.6.3.1. Reducing Air Pollutants and GHG Emissions
CKI aims to meet the ever-tightening emission standards and continuously reduce air pollutants and GHG emissions.

In Hong Kong, HK Electric has been optimising fuel mix by increasing the use of natural gas and working with local government to formulate new and more stringent emissions allowances from 2024 and onwards. To increase the proportion of gas-fired generation and decrease the emissions of sulphur dioxide (SO2), nitrogen oxides (NOx) and particulate matters (PM), a new gas-fired generating unit equipped with Selective Catalytic Reduction systems was constructed in 2019 and two others are expected to be operational in 2022 and 2023.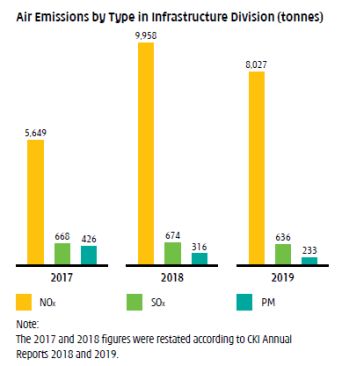 In Canada, coal-to-gas conversion was carried out on Canadian Power's only coal-fired power station, Sheerness power plant to reduce GHG emissions. Besides, a maintenance programme diagnosing leakages from natural gas systems and repairing them on a timely basis was implemented in Canadian Power's Meridian plant to minimise the release of fugitive GHG into the atmosphere.

Dutch Enviro Energy's CO2 capture facility, the first waste facility in Europe to capture CO2 on a large scale, commenced operations in 2019. CO2 released after the incineration of residual waste was captured, cleaned and liquefied for use in greenhouse horticulture. The facility processes waste from 1.5 million homes and has a maximum capacity of 100,000 tonnes per annum.

To make its fleet greener and to support sustainable transport, UKPN introduced a new connection product that enabled 18.5 million carbon emission-free passenger journeys in one year. Northern Gas Networks conducted field trials of alternatively fuelled vehicles, including hydrogen, electric and compressed natural gas. GHG emissions from Northern Gas Networks' vehicles have reduced by 2.5% from 2016 to 2019.

In the UK, in support of Wales & West Utilities zero emission fleet ambition, a change in the company car policy was initiated in 2019 to encourage employees to opt for electric and ultra-low emissions vehicles.

At ista, one of the Infrastructure division's investments in Europe, the company funded the reforestation of one hectare of new rainforest in Costa Rica to make use of the 9.4 tonnes of CO2 stored by the trees every year. Through this project, it was able to offset nearly all the emissions from ista Croatia's electricity consumption.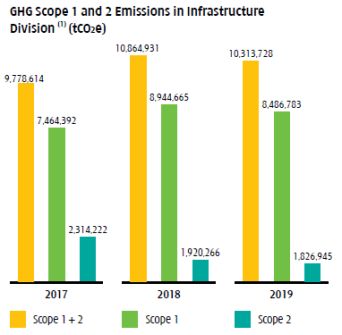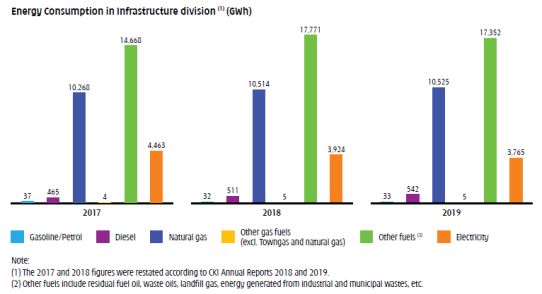 7.6.3.2. Promoting Reuse, Recycling and Reduction of Waste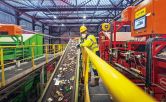 CKI aims to reduce waste generation and turn waste into useful materials.

To avoid waste pipes generated in its gas mains replacement programme being disposed of to landfill, Northern Gas Networks in the UK took part in a recycling scheme and installed dedicated recycling bins in workplaces to encourage recycling of the plastic pipe waste. In 2019, waste plastic pipe totally 191 tonnes were recycled.

At Dutch Enviro Energy's Rosenburg facility, a plastic waste pre-sorting and separation facility began operations to increase the reuse of recyclable plastics and sorted 19 kilotonnes of plastics for reuse in 2019.

EnviroNZ in New Zealand commenced a domestic food waste and domestic refuse collection contract from 2019 to 2024 which included using six fully electric collection vehicles for the New Plymouth District Council, for the purpose of enabling the recycling of domestic waste as well as reducing waste sent to landfill.

AVR, owned by Dutch Enviro Energy, started to run its separation plant for sorting plastic, foils and drink cartons from residual household waste in December 2018. By the end of 2019, over 19,000 tons of plastic packaging and drinks cartons were separated, 90% of which were further offered to recyclers.

7.6.3.3. Managing Water for People and Nature
CKI aims to prevent water pollution and use fresh water more efficiently.

Green Island Cement in Hong Kong has equipped a self-sewage treatment plant to treat and reuse wastewater for internal plant irrigation. Recycling stormwater for process cooling has also been applied to minimise the amount of freshwater extracted. By effectively managing wastewater treatment, no wastewater was discharged to the sea in 2019.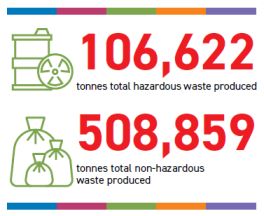 In 2019, around 23,000 cubic metres of high quality clean water was recovered in the reverse osmosis leachate treatment plant operated by EnviroNZ in New Zealand at its Hampton PARRC Landfill, making the treated water fit for reuse or direct discharge to the environment.

Seabank Power in the UK maintained an increase to the concentration factor of cooling water, effectively optimising water used for make-up and purging, and reducing the need for chemical treatment.

HK Electric has been collecting rain water and plant processing water for reuse at the Lamma Power Station. In 2019, approximately 121,000 cubic metres of rain water and plant processing water were collected for reuse.

To provide reliable and sustainable water supplies to meet customer demand, Northumbrian Water in the UK developed a water resource management plan (WRMP 2019) for the next 40 years, with future droughts, climate change and the need for environmental protection taken into account. The company also valued efficient use of water by reducing leakage from water pipes as well as advising customers on water conservation.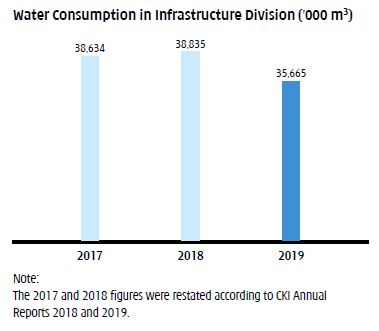 7.6.3.4. Minimising Usage of Raw Materials
CKI aims to use less raw materials and allow full utilisation of the by-products generated in business operations.

In Hong Kong, Anderson Asphalt continued reducing asphalt material wastage by selling milled asphalt to subcontractors for material reuse and recycling and by conforming to ISO 14001: 2015 requirements.

HK Electric has been collecting its generation by-products such as ash and gypsum produced for beneficial industrial use, such as manufacturing of cement. In 2019, about 230,000 tonnes of ash and 70,000 tonnes of gypsum were collected for reuse by third parties.

Over 1,000,000 tonnes of industrial waste materials, such as by-products from coal-fired power generation and slag from copper smelter, have been recycled as raw materials in the Infrastructure division's cement manufacturing plants in Hong Kong and Mainland China. In 2019, the use of recycled materials exceeded 60% in the cement production in Hong Kong.

Due to the agreement in the Green Deal for bottom ash from Energy-from-Waste plants that, 100% of the granules must be used as "freely applicable building material" instead of being treated as an Isolation, Control, Maintenance ("ICM") material in 2020. AVR, together with specialised partners, has been working towards the objective: In 2019, over 50% of the minerals acquired from the bottom ash were freely applied without ICM.

In the UK, Northumbrian Water reused materials excavated from the ground during hole-digging operations as back fill, which substantially reduced the use of new virgin backfill material compared with past years.

Northern Gas Networks in the UK established a programme to inform and advise employees and contractors on the usage of recycled aggregates rather than virgin aggregates. The usage of virgin aggregates was set as a KPI and recorded regularly. During the past five years, there recorded a decrease by 78% in the annual usage of virgin aggregates and 6.1% of the virgin aggregate was used in reinstatement works in 2019.

7.6.3.5. Protecting Biodiversity and Habitats
CKI aims to minimise the impact and damage to biodiversity and habitats in its projects.

For any new project, Southern Water conducted a detailed ecological survey to assess wildlife living in the area with emphasis on sensitive or protected species. Northumbrian Water supports the Kielder Osprey Project, which saw a record return of Osprey to Northumberland in 2019. The species was recolonised in 2009.

Canadian Midstream Assets implemented a leading-edge spill response programme and developed a right of way environmental monitoring programme to maintain reclamation of linear developments without affecting land use and natural habitats. Rigorous soil, air, and groundwater monitoring programme were conducted at Midstream facilities to protect vital air and watersheds for future generations. To maintain healthy and functioning ecosystems, the company would identify wildlife and culturally sensitive areas and take actions during the planning period. Construction activities were scheduled to reduce risk of disturbance to wildlife during sensitive periods. To continuously support ecological functions and land use, procedures for lands reclamation after use included addressing potential contamination, re-contouring sites, replacing soil layers and re-establishing appropriate vegetation.

Northern Gas Networks in the UK completed 12 land remediation projects, with a further four projects to be completed by 2021.
7.6.4. Looking Forward
Subsidiaries of the Infrastructure division have set various targets and implementation plans regarding different topics of environmental management. Below are some examples demonstrating their determination in making their business operations environmentally-friendlier and building a green future for all the lives.

Air Emissions
UKPN - decrease NOx emissions from fleet and generators by 33% by 2030.
GHG Emissions
Wales & West Utilities - reduce GHG emissions by 10%over current price-control period from 2013 to 2021.
ista - help customers/users reduce their GHG emissions by 10% by 2030 with a base year of 2010.
UKPN - reduce GHG emissions by 20% by 2021.
AVR - reduce GHG emissions by 55% by 2030 and achieve a reduction to 0 in 2050.
Energy Consumption
ista - reduce annual energy consumption in Germany by 6.5% from 2016 to the end of 2020, and achieve a continuous improvement in energy efficiency of 1.3%on an annual average.
UKPN - reduce energy use in top six buildings by 10%by 2021.
Water Usage and Pollution
UKPN - reduce water consumption by 10-15% in top six buildings by 2021.
Waste Disposal
UKPN - divert more than 90% of the waste from landfill and recycle more than 80% of waste from top six sites by 2021.
Biodiversity Protection
UKPN - increase biodiversity value by up to 30% at 100 of its sites to actively contribute towards minimising species decline and promoting net-gain by 2021.
Wales & West Utilities - achieve no net loss on designated projects between 2021 and 2026 and biodiversity net gain across by 2039.