7.4. Community Engagement
7.4.1. Commitment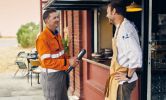 As a utility services provider, the Infrastructure division is in a good position to deliver added value to local communities. Among these regions, there are some economically challenged communities from rural or remote areas, and as companies embedded in these neighbourhoods, there is a duty for the operating companies to actively engage and support communities and individuals faced with fuel poverty and associated forms of vulnerability.

7.4.2. The Challenges
In today's highly interconnected world, corporates operate within a complex network of influence. To be successful, it is important to recognise the different views and experiences of others, and balance between the conflicting stakeholder demands. Corporates also need to be able to measure the effectiveness of engagement and investment programmes in order to provide insights for more targeted community initiatives in the future.

7.4.3. Initiatives
7.4.3.1. Supporting Effective Engagement
Effective engagement helps translate stakeholder needs into organisational goals and creates the basis of effective strategy development. In order to maintain regular and effective dialogue, operating companies establish different stakeholder engagement programmes to engage in tailored ways for more effective communication.

At Wales & West Utilities, the comprehensive engagement process is informed by three high-level principles of inclusivity, transparency and continuous improvement. These principles consider those identified in the AA1000 Stakeholder Engagement Standard, as well as reflecting our own businesses values and approach in engaging with stakeholders.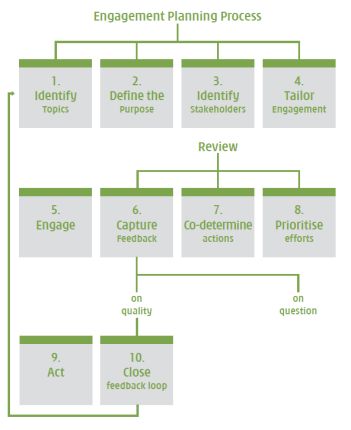 Working alongside the ongoing and extensive programme of engagement with both stakeholders and customers, Wales & West Utilities also has a Customer Engagement Group ("CEG") that robustly challenges the company's plans and for future investment, customer services and social obligations, environmental performance, etc. Formed by nine members representing different customers and stakeholders, with specialisms in different areas, the CEG is independent from both Wales & West Utilities and its regulator, the CEG's views will help the regulator to understand how Wales & West Utilities' business plans reflect and meet the needs of different stakeholders.

7.4.3.2. Shaping Future Energy Policies through Engagement
A low-carbon future is important to customers and there has been active engagements with stakeholders, policymakers and the community more generally to help shape this future.

Over the course of 2019, Australian Gas Infrastructure Group ("AGIG") presented at more than 25 conferences and stakeholder meetings, outlining the future development of gas through the development of hydrogen and biogas resources. Through submissions to government, regulators and industry groups, the company supported the need for Australia to reduce its emissions and highlighted the benefits of green gas in achieving this objective. In particular, it has supported the introduction of a target on mixing renewable gases into existing gas blend to accelerate the industry, decarbonise the domestic market and help Australia capture the export opportunities presented by hydrogen.

AGIG participated in a number of committees and working groups with a view to developing policies and strategies to enable a low-carbon future including:
The Stakeholder Advisory Panel supporting the development of Australia's National Hydrogen Strategy.
The Western Australian Renewable Hydrogen Council supporting the Western Australian Renewable Hydrogen Strategy.
Bioenergy Australia, the peak body for the bioenergy industry.
The Australian Hydrogen Council, the peak body for the hydrogen industry.
The Future Fuels Cooperative Research Centre, an industry focused research, design and development partnership supporting Australia's transition to a low carbon energy future.

7.4.3.3. Investing in the Neighbourhood
Through different investments and initiatives, the Infrastructure division supports the communities it serves in a number of different ways.

In the UK, Northumbrian Water Group has established four Community Foundation Funds for organisations seeking to make a difference in their community. A panel made up of employees will meet to review applications on a regular basis. They make the decision to give grants, with priority given to those applications that set out to improve the health, education and environment of the community.

Northumbrian Water Group also encourages employees to support community and charitable organisations through the employee volunteering scheme "Just An Hour". This scheme allows employees to give a minimum of 15 hours every year to support causes close to their hearts. Not only does the programme provide employees with opportunities to serve the community it also allows them to learn new skills and can increase their confidence.

In Australia, Energy Developments supports three community investment initiatives around its remote operations, namely the West Kimberley Community Fund, Cullerin Range Wind Farm Community Enhancement Fund and Coober Pedy Community Fund. Through the funds, Energy Developments seeks to create lasting value for the communities and nurture community wellbeing through the support of not-for-profit, community-driven projects or activities.