8..6. Land Use and Reclamation
8.6.1. Commitment
Husky strives to minimise disturbance and remediate and restore the land when operations are complete. Before any projects or operations, Husky carries out a risk assessment to identify any potential impacts to ensure these risks can be avoided, minimised or mitigated.

8.6.2. The Challenges
To responsibly produce energy the world requires, the use of land is essential in Husky's business. Land reclamation has also been an actively discussed topic globally as it is often perceived to disrupt habitats, biodiversity and the ecosystem.

As a responsible corporation caring for the community and environment, Husky has a Corporate Biophysical Standard which outlines how it manages and conserves biodiversity, including sensitive species and habitats, invasive species and avoiding human-wildlife conflict.

8.6.3. Initiatives
8.6.3.1. Wildlife Monitoring
Husky monitors wildlife activities to design suitable impact mitigation programmes in accordance with regulations from project planning to closing stage.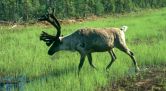 Husky has used enhanced regional monitoring programmes where biodiversity is particularly sensitive, observing trends by tracking the presence and movement of animals using wildlife cameras and winter tracking studies, point counts and breeding bird surveys to provide long term trending data. In the Atlantic region, as part of its Environmental Assessment commitment, seabird observations is conducted three times a day.

It continues to monitor habitat during operations and manages surface water through the use of containment systems to prevent soil erosion and help prevent water quality impacts.
Through scientific research and collaboration with institutions, the Energy division increased understanding towards habitat and biodiversity while making an effort to minimise disruption of its operations to the environment.

It has funded and/or participated in regional initiatives and industry committees that contribute directly or indirectly to species and habitat research, monitoring and mitigation, consistent with recognised priorities and regulations.

It supports initiatives that help to improve the understanding of biodiversity conditions in its area of operations.

In the Atlantic region, it has worked with the Department of Fisheries and Oceans and the Atlantic Salmon Federation to deploy receivers at its White Rose field to track the migratory routes of salmon.
8.6.3.2. Area-based Closure Asset Retirement
To ensure asset retirement activities are efficient and cost effective, the division has adopted the Area-Based Closure ("ABC") programme with the support of the Alberta Energy Regulator to work with its peers to assist with better management of inactive sites liability for all of the industry.

The programme exceeds regulatory requirements for abandonment, remediation and reclamation of inactive sites.
The ABC approach includes:
Well abandonment
Facility decommissioning
Pipeline abandonment
Site remediation and reclamation
In contrast to the historic approach, the efficiency and concentrated efforts within the ABC programme allow Husky to complete more asset retirement activities. It tracks its progress against the plan, key progress updates, milestone achievements, major risks and mitigation measures and significant regulatory changes that may impact the business. Its annual spending includes onshore and offshore asset retirement activities.

8.6.3.3. Restoring Habitat
The Energy division restores the natural habitat in the areas it has completed its operations. Upon removal of all surface infrastructure, it starts remediation and reclamation activities to return disturbed lands to a capability equivalent to that prior to development. Husky's tree planting programme has planted 542,640 trees on 247 sites in 2019, using species native to the area to re-establish similar land capability, including white and black spruce, lodge pole and jack pine, larch, poplar, dogwood and willow. Approximately 80,000 trees were cleared for new development in 2019.