8.5. GHG Emissions
8.5.1. Commitment
Husky commits to maintaining ongoing management and governance of climate-related risks, with the goal of reducing GHG emissions and other air pollutants through the development and application of new technology and energy efficiency measures.

8.5.2. The Challenges
While energy production is essential to the wellbeing and prosperity of human society, the science is clear that the world needs urgent action to reduce GHG emissions and avoid the worst effects of climate change. As an oil and gas producer, the challenge is to deliver affordable energy to support economic development while reducing carbon emissions.

8.5.3. Initiatives
8.5.3.1. Improving Energy Use Efficiency in Production
To improve the efficiency of the energy operations, Husky has been exploring for the most effective way to use energy. Over the last five years, using a new reservoir operating strategy, the steam-to-oil ratio at the Tucker Thermal Project reduced by about 35%. Using less steam lowers energy use which reduces both operating costs and air emissions, including GHGs.

8.5.3.2. Reducing Fugitive Emissions in Production
Fugitive emissions, including methane and volatile organic compounds (VOCs), are gas and vapour leaks from valves, piping connections, pumps and compressor seals, and other piping system components which occur as part of the normal operation of a facility or plant. Husky's Fugitive Emissions Management Programme detects and ensures the timely repair of leaking equipment to reduce emissions, improving operational efficiency and minimising the release of GHG and VOCs.


Several techniques are used to detect leaking components, including highly specialised infrared cameras that provide a view of normally inaccessible locations such as tank seals and overhead piping from a distance, and ultrasonic detection, which identifies leaking components using sound. All survey results are tracked by using a third-party database, creating an effective survey, repair and tracking system for managing component leakage.

In 2019, Husky's Canadian upstream and midstream facilities followed the Canadian Association of Petroleum Producers Best Management Practice for Fugitive Emissions, conducting surveys quarterly at all large gathering and processing facilities and at least once a year at others. For downstream facilities, improvements in the ongoing Leak Detection and Repair monitoring have resulted in a leak rate of 0.12% for Canadian downstream facilities.

8.5.3.3. Renewable and Low Carbon Production
Renewable energy is a growing part of the energy mix and Husky is currently Western Canada's largest manufacturer and marketer of fuel-grade ethanol. Besides engaging in the production of renewable energy, the company also assesses opportunities to use low carbon production technologies where it makes economic and operational sense.

In order to reduce the carbon intensity of upstream and downstream operations, Husky evaluates the effectiveness and cost of various potential reduction options with the help of a Marginal Abatement Cost Curve, allowing the prioritisation of resources to achieve reductions at the most efficient cost per tonne of carbon dioxide equivalent (CO2e).

Through carbon capture technologies, carbon is recycled for enhanced oil recovery which involves carbon being injected into reservoirs to increase oil production. Husky's Lloydminster plant can capture up to 250 tonnes a day of carbon dioxide to aid in enhanced oil recovery, allowing the production of some of the lowest carbon intensity ethanol in Canada. From 2012 to 2019, 531,000 tonnes of carbon were captured at the Lloydminster Ethanol Plant.

There are also other pilot carbon capture programmes in place, such as the Pikes Peak South thermal project where the technology of capturing CO2 from a once-through steam generator is being tested. One pilot underway since 2015 is capturing up to 30 tonnes per day and in 2019 a 30 tonne per day system was commissioned.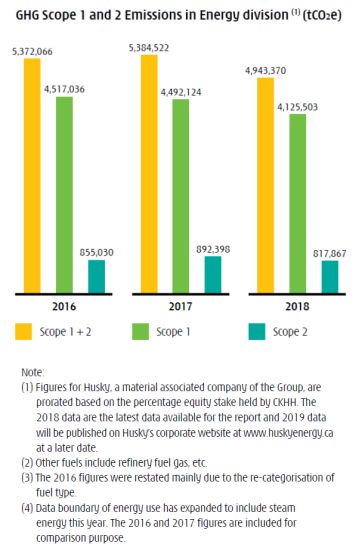 8.5.3.4. Recognising and Managing Climate Change Risks
Husky recognises the social, environmental and economic risks posed by climate change. In response to this, such risks are built into the Enterprise Risk Management process to manage the inherent risks and opportunities brought by a lower global emissions pathway. Also incorporated into the process is the carbon-related costs based on the current and emerging policies in the jurisdictions where operations are located, and allows a better understanding of the resilience of the existing and proposed assets to changes in carbon policy and regulation.

More information on Husky's carbon management approach and metrics are detailed in Husky's annual submissions to the CDP Climate Change Programme, which are posted on www.huskyenergy.ca.