8.4. Community & Indigenous Peoples' Engagement
8.4.1. Commitment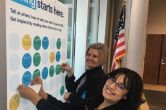 With many operations located near Indigenous communities, Husky aims to work with Indigenous communities with respect, trust and transparency. Through different policies and initiatives, the company seeks to build strong, mutually beneficial relationships with Indigenous communities and support their development.

8.4.2 The Challenges
The development of energy production projects in Canada often happen in the traditional territory of Indigenous people. Husky seeks to achieve Free, Prior and Informed Consent ("FPIC"), as set out in its Indigenous Relations Policy, through the process of meaningful engagement and consultation, in advance of project decisions and before impacts occur, and with appropriate information on development plans.

8.4.3. Initiatives
8.4.3.1. Effective Communication
Maintaining effective and transparent communication is the key to promoting mutual trust between Indigenous communities and Husky. Therefore, a dedicated Indigenous & Community Relations team was established to engage Indigenous communities. The team provides internal advice and relationship support to various departments, ensuring consistency and regulatory compliance of the engagement approach.

Through consultations with the communities, Husky responds to the needs and capacity of the community, which may result in formal agreements, such as a Memorandum of Understanding, to a simple shared understanding of the community engagement processes Husky uses. To further enhance the communication with Indigenous communities, Husky also joined a delegation of Indigenous leaders to meet with federal leaders and the Senate to discuss the benefits of pipeline access for its Alberta production.

8.4.3.2. Fostering Economic Development
Economic inclusion is the key to fostering economic development of the Indigenous communities. Husky focuses on building Indigenous businesses' capacity by establishing competitiveness and developing entrepreneurs among them. Indigenous suppliers are added into the supply chain and Indigenous economic inclusion is fully considered in bid evaluations through the inclusion of language in the terms.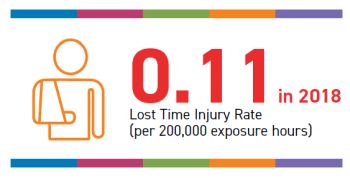 8.4.3.3. Education Promotion
Academic options can lead to additional career choices, positively affecting Indigenous students and their communities. Through funding, scholarships, mentoring, summer employment and apprenticeship positions resulting in potential career opportunities, Husky supports long-term academic success for Indigenous students. Every year, Husky offers scholarships to Indigenous students living in communities near its operations pursue post-secondary education. The scholarships are awarded by considering the actual financial needs of the students, academic merit, community and cultural involvement, and work experience. Additional peer support is available through Husky's Indigenous Community Sharing Circle. Besides scholarships, Husky also sponsor Indigenous community schools by providing computers, laptops and printers to support their teaching needs.


Since 1984, Husky has been providing bursaries to Indigenous students pursuing high school upgrading or post-secondary education related to the oil and natural gas sector. Through this contribution, Husky encourages advanced education among Indigenous students and allow them to make improved career choices.

8.4.3.4. Developing Indigenous Leadership
Strong communities depend on strong leadership. To support future Indigenous leaders, different leadership programmes and training are offered to equip them with the necessary skills for their future endeavours.

Husky is currently a sponsor of the Banff Centre for Arts and Creativity, which provide Indigenous leaders with programmes supporting the development, planning and strategic implementation of their vision for their community. The programme covers negotiation skills, how to set strategic direction, measure performance and establish economic ventures. The sponsorship helps leaders in the communities to access these programmes, providing support for tuition, meals and accommodations.

8.4.3.5. Community Involvement
In order to be a good neighbour of the community, it is important for the company to move beyond day-to-day business and become involved in communities by supporting different community wellness initiatives. By encouraging the sharing of cultures, mutual understanding and respect are promoted within the community. Husky's management and employees are encouraged to participate and support different community events.