4.2. Approach to Sustainability

The Group is committed not just to its shareholders, but also to a wide range of stakeholders including employees, customers, suppliers, creditors, regulators and the community. Taking a proactive approach to sustainability is not only a part of the Group's heritage, inherent in the various strands of the corporate strategy of the Group, but is also crucial to the Group's business success. Sustainability is an integral element in maintaining the Group's position as a responsible business that contributes positively to the development of the communities in which the Group operates.
4.2.1. CSR Pillars and Policies
The Group's overall sustainability approach and priorities are built on four pillars, namely Business, People, Environment and Community. Each pillar is supported by Group-wide policies, leadership at the Group level and the collective efforts of each core business. These four pillars guide the Group in setting the overall direction of its sustainability strategy to integrate sustainability across its worldwide businesses. The Group has policies, procedures and guidelines in place to support management in addressing material sustainability issues across the Group, as described throughout this Report.

For more information, please refer to the Corporate Social Responsibility Policy.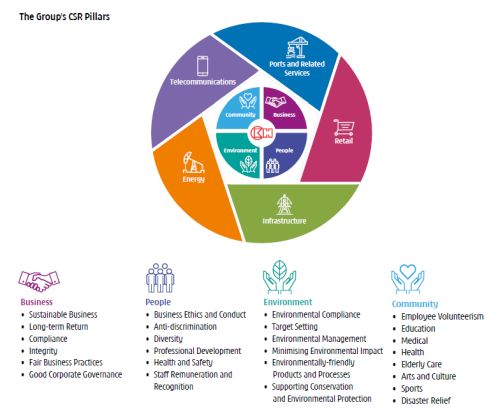 The table below highlights relevant policies and procedures in place to support the execution of Group-wide priorities under each pillar: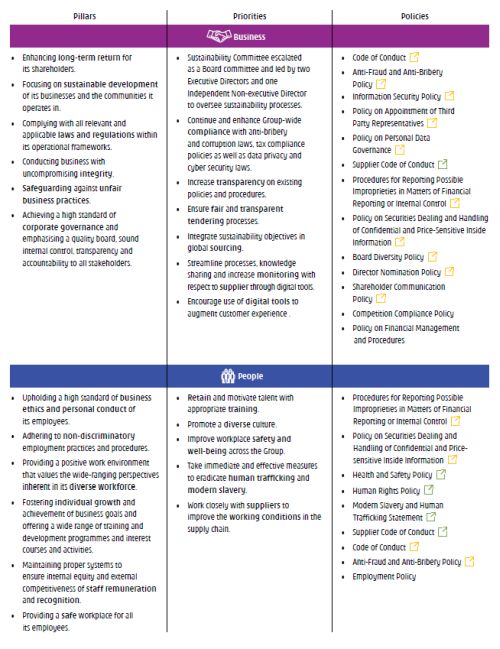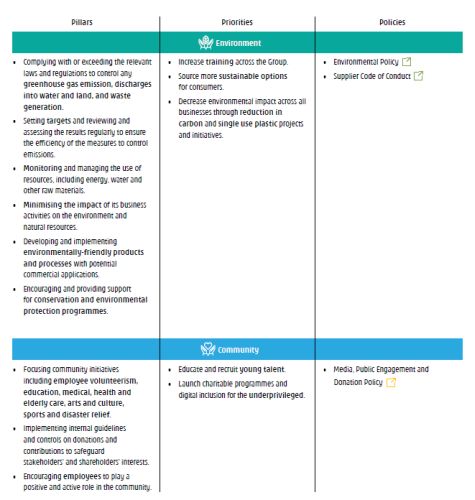 These policies, procedures and guidelines are adopted Group-wide, based on each core business which devises its own set to meet local operational needs and to comply with local legal and regulatory requirements, and on a continuous basis, monitors their execution and compliance through regular management reviews and reporting.

For Group-wide monitoring, on a half-yearly basis, each core business is required to formally conduct a self-assessment in relation to its enterprise risk management, operations, as well as statutory and regulatory compliances such as tax and anti-fraud and anti-corruption practices Goals and targets reporting on sustainability issues also form part of the bi-annual self-assessment process.

As an integral part of sustainability governance, these self-assessment results are subject to internal audits, then submitted to the Executive Directors, the Audit and Sustainability Committees for review and approval. Relevant self-assessment results are also shared with external auditors. For more information, please refer to Section 4.3.3. Internal Control Environment and the Company's 2019 Corporate Governance Report.

4.2.2. Stakeholders Engagement
The Group maintains ongoing dialogues with its key stakeholders, including employees, shareholders, investors, customers, business partners, creditors, suppliers, professional institutions, non-government organisations, regulatory authorities and media. The Group regularly collects views from stakeholders through a variety of channels, such as meetings, liaison groups, panel discussions, workshops, surveys and feedback programmes.

The following table summarises the channels established to engage and communicate with stakeholders to understand their views and expectations.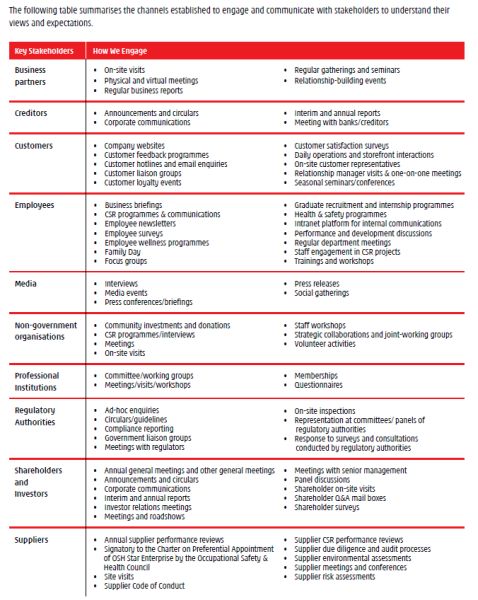 4.2.3. The Materiality Assessment Process
As a multinational conglomerate operating a variety of businesses across different countries and cultures, the Group recognises the differences in social, economic and environmental needs in each industry and market, where certain sustainability topics are more relevant to specific business activities and geographies.

To this end, the Group conducted a materiality assessment to define the material sustainability issues facing its core businesses that are perceived to be most significant to the Group and its stakeholders.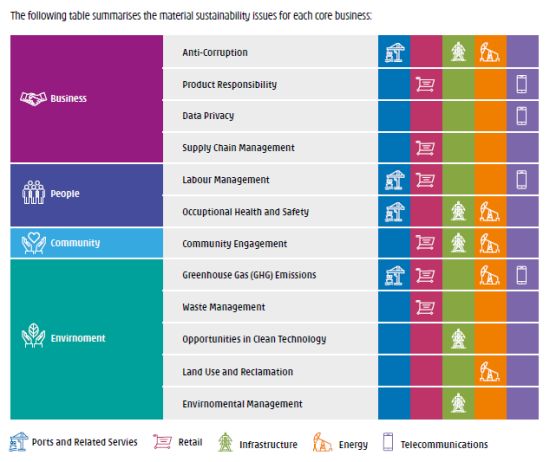 The Group adopts the materiality assessment process to determine its focus areas for managing and monitoring sustainability performance at the respective core businesses. The results facilitate the Group to steer its sustainability strategy, prioritise its sustainability activities, and establish meaningful metrics for effective performance evaluation. Through working closely with each core business, the Group sets specific targets and roadmaps to achieve its sustainability mission, taking into account local situations and requirements.

The results set the focus of this Sustainability Report, as elaborated by each core business in the sections below including disclosures on their material sustainability issues, key initiatives and performance in the year. For more information, please refer to their respective corporate websites and sustainability reports.